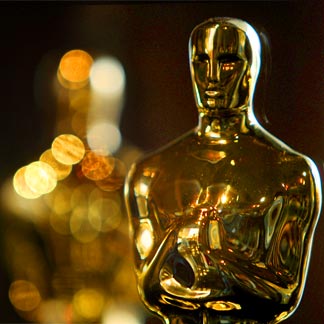 With the 82nd Academy Awards coming this Sunday night, we here at TUIW chimed in for our predictions for the ceremony this year. Be sure to tune in here after the awards for our recap!
Best Picture
Avatar
The Blind Side
District 9
An Education
The Hurt Locker
Inglourious Basterds
Precious
A Serious Man
Up
Up In The Air
Who Will Win: Avatar. While The Hurt Locker has a ton of momentum, we're willing to bet the highest grossing film of all time (not adjusted for inflation mind you) that revolutionized the way digital effects and filmmaking come together is going to win best picture.
Who Should Win: The Hurt Locker. The expansion of the field to 10 nominees gave us a lot of worthy choices, but The Hurt Locker stands above the rest of the contenders as a taut, wiry piece of filmmaking that doubles as one of the most memorable moviegoing experiences in recent memory.
Who Was Snubbed: The Fantastic Mr. Fox. But, while there were a number of good left-field choices this year, we are still a little stunned at how The Blind Side could be nominated over the vividly-realized, claymation fun of The Fantastic Mr. Fox.
Best Actor
Jeff Bridges, Crazy Heart
George Clooney, Up In The Air
Colin Firth, A Single Man
Morgan Freeman, Invictus
Jeremy Renner, The Hurt Locker
Who Will Win: Jeff Bridges. The Dude won the Golden Globe and has had a big PR blitz behind him, so I think he'll be tough to beat. The fact that he performed all the songs in Crazy Heart should help as well.
Who Should Win: Jeremy Renner. He makes the Hurt Locker so haunting, and he won the SAG Award and several others. His Oscar PR hasn't been as good as Bridges though, so I'm guessing he'll end up on the short side of the stick.
Who Was Snubbed: Sam Rockwell for Moon. One of the best performances of the Oscar year, and it's been completely overlooked. Moon is a great movie that wouldn't be if it weren't for a stellar performance by Rockwell.
Best Actress
Sandra Bullock, The Blind Side
Helen Mirren, The Last Station
Carey Mulligan, An Education
Gabourey Sidibe, Precious
Meryl Streep, Julie & Julia
Who Will Win: Sandra Bullock. Its neck and neck between Meryl Streep (who hasn't won since Sophie's Choice) and Bullock, but given The Blind Side's Best Picture nomination, it seems like the latter has more support. Now if anyone has a paper bag for me to vomit into…
Who Should Win: Carey Mulligan. I prefer Mulligan's a-star-is-born breakout to Streep's amiably fun work as Julia Child, but really you can just consider this ABB (Anybody But Bullock).
Who Was Snubbed: Tilda Swinton in Julia. Forget gender separations, Swinton gave the year's single best performance as Julia's titular alcoholic troublemaker. Swinton deserves a handful of trophies by now (although she did finally win in 2007 for Michael Clayton) so we can just add Julia to the list.
Best Supporting Actor
Matt Damon, Invictus
Woody Harrelson, The Messenger
Christopher Plummer, The Last Station
Stanley Tucci, The Lovely Bones
Christoph Waltz, Inglourious Basterds
Who Will Win: Christoph Waltz. Waltz has swept just about every major award and done so with grace and class. Its impossible not to root for the guy…
Who Should Win: Waltz. …Especially when his performance is this good. Waltz cuts such a frightening, larger-than-life image that he turns Inglorious Basterds into a completely different movie whenever he's on the screen.
Who Was Snubbed: Peter Capaldi in In the Loop. Speaking of frightening, larger-than-life performances, Peter Capaldi absolutely dominates In the Loop, delivering some of the funniest tirades of the year with a violent energy that makes Jeremy Piven look like a teddy bear. Nowhere does the film's words=bombs satire become clearer than when its being delivered by Capaldi.
Best Supporting Actress
Penélope Cruz, Nine
Vera Farmiga, Up In The Air
Maggie Gyllenhaal, Crazy Heart
Anna Kendrick, Up In The Air
Mo'Nique, Precious
Who Will Win: Mo'Nique. Her performance was singled out from the very beginning and I'd be shocked if she didn't walk away with a statue.
Who Should Win: Vera Farmiga. I think in a year without Mo'Nique, she'd be a front runner in the category for turning in the best performance in a film that got three acting nods. Up In The Air was her big break, and the Academy usually rewards that, but unfortunately, Mo'Nique had her big break this year too.
Who Was Snubbed: Julianne Moore for A Single Man. There will come a time, years from now, when Julianne Moore is recognized as one of the great actresses of our time, but again, she'll go largely unrecognized for her fantastic performances.
Best Director
James Cameron, Avatar
Kathryn Bigelow, The Hurt Locker
Quentin Tarantino, Inglourious Basterds
Lee Daniels, Precious
Jason Reitman, Up In The Air
Who Will Win: James Cameron. Can you really argue? The guy changed the industry en route to the highest grossing film of all time (not adjusted for inflation mind you).
Who Should Win: Kathryn Bigelow. I've never been as tense during an action movie as I was during The Hurt Locker, yet not much action happens. Without Bigelow's direction, there's no way that film gets nominated for anything.
Who Was Snubbed: Spike Jonez. Love it or hate it, Where The Wild Things Are was a visually stunning film, a fact that was overlooked in most debates about the film. Jonez is Hollywood's most unique director on the rise, and he should have at least gotten a nod.
Best Adapted Screenplay
District 9, Neil Blomkamp & Terri Tatchell
An Education, Nick Hornby
In The Loop, Jesse Armstrong, Simon Blackwell, Armando Iannucci & Tony Roche
Precious, Geoffrey Fletcher
Up In The Air, Sheldon Turner & Jason Reitman
Who Will Win: Up In The Air. This is going to be the award the film wins, and Jason Reitman deserves a statue after three fantastic films to start his career. This is an award about introducing him to Hollywood royalty as much as it is for a great screenplay.
Who Should Win: In The Loop. Hands down the funniest film of the year. All of the satire is there, yet it doesn't play too over the top. It's almost a more subtle version of Dr. Strangelove, with war-mongering coming out of bruised egos and eagerness more than actual fact. If you haven't seen In The Loop, do so ASAP.
Who Was Snubbed: The Fantastic Mr. Fox. So much attention was placed on the stop motion in Mr. Fox that the great screenplay was overlooked. Wes Anderson and Noah Baumbach perfectly transfer the book into a film filled with humor and a ton of humanity, and it's a joy to watch.
Best Original Screenplay
The Hurt Locker, Mark Boal
Inglourious Basterds, Quentin Tarantino
The Messenger, Alessandro Camon & Oren Moverman
A Serious Man, Joel & Ethan Coen
Up, Bob Peterson, Pete Docter & Thomas McCarthy
Who Will Win: The Hurt Locker. The race between The Hurt Locker and Inglorious Basterds is tight, but I'll give the edge for Mark Boal, who put his journalistic background to use in the film's vividly realized portrait of the Iraq War.
Who Should Win: Up. Pixar is long over-due for affirmation outside of the Best Animated Feature category and Up is one of their finest efforts to date. Even in a category as strong as this one, Bob Peterson (who also did the voices for Dug and Alpha), Pete Docter, and Thomas McCarthy (who wrote and directed The Station Agent) deserve the win.
Who Was Snubbed: Humpday. With a freewheeling, loose feel (and lots of room to improvise), Lynn Shelton took an idea that could have been hopelessly dumb and turned it into one of the most honest films of the year.
Best Animated Feature
Coraline (Dir. Henry Selick)
Fantastic Mr. Fox (Dir. Wes Anderson)
The Princess & The Frog (Dir. Ron Clements & John Musker)
The Secret Of Kells (Dir. Tomm Moore & Nora Twomey)
Up (Dir. Bob Peterson & Pete Docter)
Who Will Win: Up. The streak continued with Up, which features intricately detailed animation, hilarious writing, and one of the most emotionally devastating opening sequences ever.
Who Should Win: Coraline. While Pixar had another typically great year, I actually liked Coraline more, thanks to Henry Selick's exacting eye for detail, put to use in service of adapting Neil Gaiman's excellent book.
Who Was Snubbed: A Town Called Panic and Ponyo. It was a truly great year for animation, but I was sad to see two of my favorites snubbed. Either the manic Belgian cartoon Town Called Panic or Miyazaki's latest masterwork Ponyo would have made a better choice than the good, but not great Princess and the Frog or The Secret of Kells.