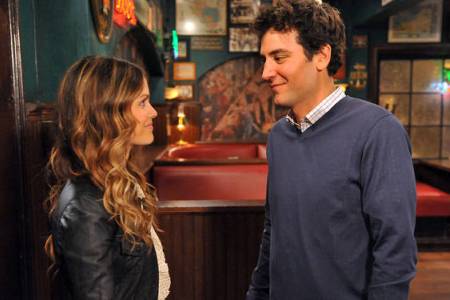 Ladies and Gentleman, the network Fall TV Season has officially begun! What better way to kick things off than with an old favorite looking to rebound after its shakiest season so far. My complaints about How I Met Your Mother were pretty well noted at the end of last year, but I was actually very excited to see where the show would head after its finale and executive producers Carter Bays and Craig Thompson's promise to return the show to its old form in Season 6 (six!). So how did they do?
Pretty well actually. Sure there was a classic HIMYM fake out, but unlike last season, this fake out seemed to be heading somewhere, not just for the sake of prolonging the Mother Mystery for another year. I think part of this fake out was important because it brought back Ted's pursuit of the Mother. I was pretty certain the girl at the bar wouldn't be Mrs. Mosby, but by bringing back Cindy, we got the chance for Ted to go back to searching for the Mother without a pronouncement to make it painfully obvious. It was an organic return to the central premise of the show, which the show had gotten away from last season, and was a promising turn of events.
What really made the episode was that it was pretty damn funny. I've always thought Cobie Smulders is the funniest of the amazing cast, and she absolutely killed it in this episode as Robin was plagued by "cartoon squiggly lines" of filth in the aftermath of her breakup with Don. I'm laughing just at the thought of her sitting on the couch, covered in food, telling Ted she was ready to have sex with him. Throw in Barney being Barney towards her, and you have a series of classic HIMYM moments.
Jason Siegal also had a chance to shine during Marshall's struggles with his father and Lilly's low neckline, making it all payoff with a really sweet moment with Lilly at the end. They always get the best emotional beats on the show, but after a year in which most of their moments were pretty cheesy, it was nice to see a pretty genuine, nice bit between the two of them.
So all and all is HIMYM back to its old form? It's definitely too early to tell, but it was a start that had a lot of potential. There were several great moments, and despite the overly overt umbrella references at in the episodes' closing moments, I liked it a lot. I don't know if I'd give the episode a high six, but an old fashion five sounds pretty good.

Michael's Score: 83
TUiW Grade: A-