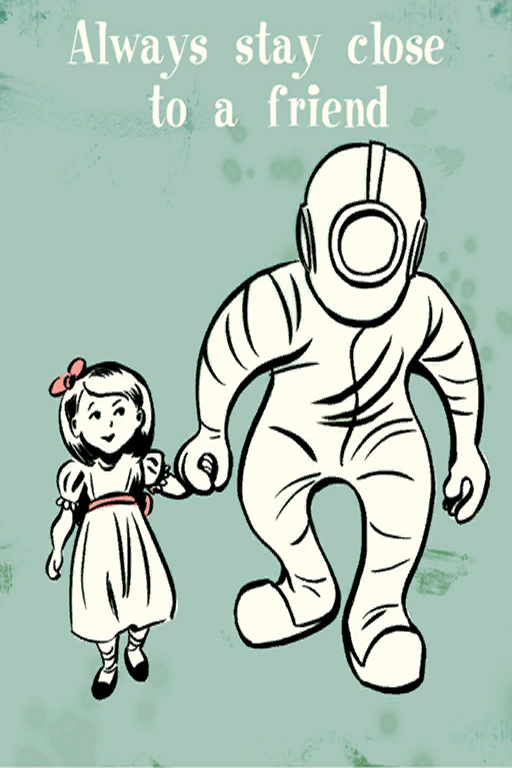 I can't remember when exactly it was, but sometime in the mid 1990s I saw a report on TV about a movie where the audience could control what would happen. At certain points the narrative would stop and people in the audience would be presented with three choices; they would all vote on what they wanted to see and then that would happen. Shockingly, this idea never caught fire within the world of cinema (Yet, but maybe James Cameron can resurrect it! Avatar 2? Dare I dream?).
Throughout a lot of the best video games in the 2000s (and plenty of the worst) there was a commitment to the illusion that You, The Gamer, could actually Control What Happened in the game in some real, tangible way. "Open-World," "Sandbox" and "Moral Choice" were all terms used to sell gamers on the notion that they could actually make choices that would change the story and world that their game inhabited (even the decade's most popular genre (arguably), the first-person shooter, was all about the notion that You are somehow a part of the action. The same with games like our #2 pick, Rock Band). Conceptually, this is not a bad idea for a medium that is based entirely on interactivity, but it was easier said than done. For, while games delivered these mechanics, they never actually followed through on the unspoken promise of those buzzwords: that you can actually control what happens.
First, it might be helpful to establish what we mean by controlling what happens. When you watch a movie, Star Wars for instance, there is a risk of failure. Luke could fail to blow up the Death Star or he could succumb to the Dark Side and, if that happens, the galaxy would never be the same again. But, in the hypothetical video game version of Star Wars, if you, playing as Luke Skywalker, fail to blow up the Death Star or if you decide to team up with the Empire or whatever, the game just resets. There are all sorts of artificial stakes in video games – lives, cities, perhaps entire planets can hang in the balance – but there are no real stakes because whatever is going to happen will happen. If you don't beat Bowser on the first try, the Princess doesn't die or remain his prisoner forever or anything, you just keep trying until you beat him.
(I think game designers are aware of this dilemma, and, in addition to what I talk about below, it feels like there has been a lot less dying in general this decade. Whether it's the healing function in Halo or the (rightfully maligned) Vita-Chambers from BioShock, designers seem to be looking for ways around having your character die a whole bunch, even though the changes aren't actually doing anything to raise the stakes. This is another discussion for another time, but is it possible for a game, from a dramaturgical perspective, to tell a story that feels like it has actual life-or-death stakes when you know that your character's death is nothing more than a temporary roadblock? Is Master Chief's in-story death as impactful when you've seen him die thousands of times before?)
So, this decade, gaming has tried two main methods to let you shape your gaming experience, which, for simplicty's sake, we'll call the GTA method and the Bioshock method. Grand Theft Auto's success is due mainly to the open-world, sandbox nature of the game. There's not just a core story, but also a lot of side missions and subplots that you can either follow or ignore completely, depending on how much you care about them. But this is less about control and more about generating a nearly endless source of content from the game's strengths, which is causing ultimately harmless mayhem in a city that constantly repairs and replicates itself. In a way, GTA is the Seinfeld of gaming – the specifics of who you're shooting and why you're doing it don't matter, it's a game about nothing. I don't mean that as a negative; with this model you basically get to play the game you want; whether that game is just trying to destroy as much as possible, or beat the main story, or become the fastest Vespa pizza delivery boy in Vice City.
Bioshock, on the other hand, is about Something. And it promises that you, yes You!, can control how everything turns out, because you have to make the difficult decision of whether you slaughter innocent girls for experience points or let them live for roughly the same amount of experience points. This is well-worn territory so I won't go too far into it; just enough to say that, while people in the real world have all kinds of incentives for doing awful things to each other (not all of which involve doing something clearly evil for personal gain) ,the gaming world hasn't quite caught up yet. And Bioshock is basically the same game no matter which way you choose to play it – with the exception of one cut scene at the end that reflects your choice.
So control still has a long way to come in games. But is it even necessary? Look at the most powerful moment in our number one game of the decade, Portal. GLaDOS tells you that you need to kill your only friend, the Weighted Companion Cube, before the game can continue. How long did you try to find a way to save it? I'll bet you agonized over killing the Weighted Companion Cube for far longer than you decided whether to Harvest or Rescue. Here's a moral choice with consequences: you either kill the Weighted Companion Cube and finish this game you've heard is so amazing or you save it by quitting and never playing Portal again. It's an oddly sickening moment – after all you're sticking a box with some hearts on it in a fire – and yet, it was truly affecting. And what makes it so affecting is that you have no choice (again, outside of turning off the game and selling it to Gamestop). It's the same with Bioshock's best moment, the "would you kindly" reveal and what follows.
Which brings me (finally!) to the title of this essay. What does it matter if you can choose what happens in a game? Does that even play to the strengths of gaming as a medium? Intuitively we think it would, but games like Portal and Bioshock have shown that there's more power in taking that control away. Some time in the next ten years, I predict we'll see a game that does choice right – that is, your choices will have weight and consequences – but for now it's clear that games can already make their audiences think without forcing you to choose between slaughtering an evil gang who is tormenting the villagers or slaughtering the gang and the villagers. More importantly, this was the decade gaming realized it can move us – not just scare or entertain us – and on the road from Atari to Art, that may be the most important step yet.