Last week, Michael headed to the 2011 Savannah Film Festival, getting an early look at some of the films that figure to be Oscar contenders this year and some that disappointed:
FILMS NOT TO MISS
The Artist
Read Michael's review
here
.
Carnage
In terms of tone, Roman Polanski's latest film is a far cry from his last, the terrific
The Ghost Writer
, but it's just as fun to watch. Replacing the dark world of international politics with two sets of parents trying to deal with an altercation between their children, Polanski's adaptation of Yasmina Reza's play God of
Carnage
is full of laughs from a tremendous cast that hits every note perfectly. It's hard to imagine anything less than amazing when you put John C. Reilly, Jodie Foster, Christoph Waltz, and Kate Winslet in a room with each other for a scant 79 minutes, but Polanski more than ably transfers humor designed for the stage to the screen. In the last several years, there's been a lack of films like
Carnage
, comedies about adults for adults. While it may not set the world on fire, it's an enjoyable and fun film I fully recommend seeing in between the big melodramas studios will push for Oscars this winter.
We Need to Talk About Kevin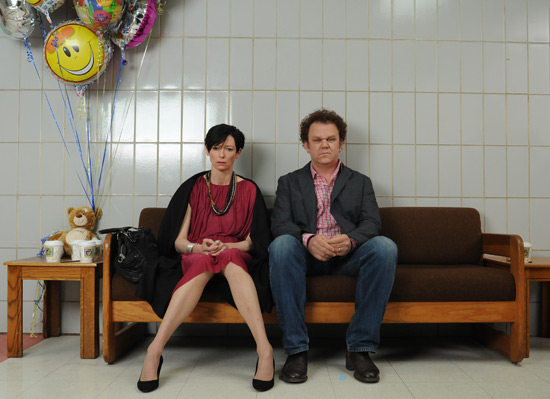 Lynn Ramsey's dark story abut a mother raising a disturbed son drew mixed results for the crowd at Trustee's Theatre, but stood out as being one of the more interesting and better done films of the festival. Tilda Swinton was terrific as always as a the mother of the titular character, played with menacing evil by Ezra Miller. Flashing backwards and forwards through time before hitting the big reveal at the end,
We Need to Talk About Kevin
employed visuals better than any other film at the festival, providing a sense of dread the entire time. In a lot of ways, it's a modern day horror film in the vein of
Rosemary's Baby
, where the audience knows something bad will happen and spends the entire film waiting for it to happen. Though I don't see any Oscar nods in its future,
We Need to Talk About Kevin
is definitely one of 2011's must see films.
Jeff Who Lives at Home
The latest film from the Mark and Jay Duplass (
Cyrus, The Puffy Chair
) escaped a lot of attention as one of the last films to be screened, but was among the most enjoyable of the festival.
Jeff Who Lives at Home
follows the titular character (Jason Segal), a lazy pot-smoker who still lives with his mother (Susan Sarandon). Looking for signs in the world to give him his true purpose, Jeff ends up on a journey around Baton Rouge, where he ends up connecting with his jerky brother (Ed Helms) and sister-in-law (Judy Greer). The Duplass Brothers' loose, improvisational style gives both Segal and Helms a chance to do their best work on the big screen, each showing depth and range previously unseen.
Jeff
 is also a significant step up for the directors from last year's
Cyrus
, a film that failed to meet its potential. In contrast,
Jeff
features a tighter story and relies more on the emotional beats of characters than emotional beats in the story. Just as it did at the SFF,
Jeff Who Lives at Home
could fly under the radar for most moviegoers, but if you have the chance, check it out.
Boy
After a heavy night with Coriolanus (more on that in a bit) I was ready for some laughs. Thankfully, I decided to see
Boy
, a hysterical and charming film from New Zealander Taika Waititi. The film follows the titular character, a Michael Jackson-loving 11-year-old kid in a small New Zealand town who is left in charge of a house of even younger cousins and his brother Rocky when their grandmother goes out of town for a funeral. When his estranged criminal father (Waititi) returns, Boy finally has a male role model, albeit one that has him steal marijuana and dig holes to find the money he had stashed in a nearby field. Waititi is pitch perfect as the slightly insane Alamein, making him likable and detestable at the same time. The film started right away with laughs and never let up, even in its heavier moments.
Boy
may not be on the radar of a lot of film followers here in the U.S. yet, but it should be. Unfortunately, it's not playing again at the festival, but be sure to keep an eye out for this charming and thoroughly enjoyable film.
The Bully Project
In recent years, issues such as climate change, America's school system, and the financial crisis have been greatly impacted by some incredible documentaries. An Inconvenient Truth changed the way we think about the environment, Waiting for a Superman was watched and mentioned by President Obama, and Inside Job put a spotlight on who was actually responsible for the financial collapse. What made these documentaries so successful was not just that they were well done, but that in some way, they impacted every viewer. Appropriately screening after a panel on how films can change the world, Lee Hirsch's
The Bully Project
aims to do the same with a problem that impacts many kids and their parents across the country, hitting all the right notes in the process. The film tackles bullying from nearly every facet, following a middle-schooler facing it in his school, a girl who brought a gun on a bus to stop bullies, a small-town lesbian, and the families of two kids who took their own life because of bullying. Each segment features crushing moments of cruelty that largely goes unpunished or recognized by school and town officials, including one in which an assistant principle tells a boy to just ignore the bully that had told him he would kill him. It's an incredibly touching film that at times touched very close to home. It may seem bleak at points, but
The Bully Project
does an excellent job at leaving its audience with a feeling of hope and purpose. What was especially great about yesterday's screening was walking out and seeing a large group of local students in their seats. All of them were quiet and evidentially shaken by film. As much as it's a documentary for adults unaware of the issue,
The Bully Project
is an should be required watching in middle and high schools around the country. See it if you can.
THE GENERALLY GOOD
The Muppets
Kermit, Miss Piggy, and Fozzie got their world premier in Savannah as the secret Director's Choice on Friday night, a move that
simultaneously delighted and infuriated the festival crowd
. As far as the film goes, it's a classic Muppet movie, full of laughs, celebrity cameos, songs, and plenty of positive vibes. Jason Segal's script does a great job of staying true to the Muppets while also bringing them into the 21st Century. Followed up by a predictably great
Toy Story
short,
The Muppets
is a great family movie that will entertain both kids and their parents. That being said, it was a particularly odd choice for a festival that featured many darker, adult films in the marquee 7:00 screening. A large number of people left when it was revealed as the film, many more (including myself) complaining outside afterwards. While an enjoyable film and one I'm glad I stuck around for,
The Muppets
is in no way a festival film, representing a gross misunderstanding of the audience on the part of the film festival.
Like Crazy
The closing night selection, Sundance winner
Like Crazy
, also lead to a split decision from the audience. An entirely improvised film shot on a prosumer camera (the Canon 5D), I found
Like Crazy
to be a film with terrific performances, a great visual style, and a lackluster story. The film follows Jaccob (Anton Yelchin) and Anna (Felicity Jones), two college students that fall in love and suffer through a long distance relationship after visa problems keep her stuck in her native England. Both Yelchin and Jones are terrific, and the small camera allows the filmmakers to capture some terrific, intimate, improvised moments, but the film's biggest flaw is its glacial pace and some plot decisions that lack explanation or motivation. There's a good story in
Like Crazy
that is largely lost, leading the film to rely on visuals to work. While it doesn't stick the landing, it's an impressive low-budget indie that deserves the attention its gotten.
FILMS TO SKIP
A Dangerous Method
The biggest disappointment of the week came with David Cronenberg's latest, a period piece about the relationship between groundbreaking psychologists Sigmund Freud (Viggo Mortensen) and Carl Jung (Michael Fassbender). Dry dialogue, relatively conventional visuals, and poor performances doom the film, which felt like it dragged on forever. Kiera Knightley offers a terribly over-acted performance as a patient of Jung's that begins an affair with him after he gets her craziness under control. Fassbender breaks his hot streak, playing Jung with virtually no emotion, providing no reason to connect to his character. The film's saving graces are Mortensen, who is charming and funny as Freud and Vincent Cassel, who turns up for about 15 minutes as a doctor/patient that encourages Jung to pursue his affair with Knightley. Overall, the film is sterile and devoid of any sort of emotional connection with the audience. Though the temptation to see a Cronenberg film may be there, skip A Dangerous Method and to avoid crippling disappointment.
Coriolanus
Hands down the worst film of the festival,
Coriolanus
is clearly the vanity project of director/star Ralph Fiennes. Taking one of Shakespeare's lesser known plays and setting it in "modern day Rome," the film is an overindulgent mess that finds Fiennes in constant closeups while forgetting a terrific roster of supporting actors including Brian Cox, Vanessa Redgrave, Jessica Chastain, and Gerrard Butler. If Fiennes knows anything about film directing, it's not apparent in
Coriolanus
. Do yourself a favor and spend two hours doing something other than seeing this movie.